What's New?
"Ultimate" F3 floorboards. http://www.spyderryders.net.au/image-viewer.htm?Fgallery3-16
The Only board on the market to offer multiple riding positions, combining the F3 position with an RT like style position, you get to choose.Gives you the much needed help to mount the bike, the only board to give you a full size step to get on and off the Spyder, that's the safety you were looking for !!! Non slippery and low maintenance Line-X covered.
The only board to allow you to stand upright on the Spyder....The only board to give you some much needed protection against the wind, rain and water with our vertical shield. Still not convince... life time no hassle warranty....1/4 in thick aluminium with a Line-X covered wrap around, this is tough, safe and stylish. Stainless steel hardware. Works on all F3 Spyders with stock pegs.
Will be in Australia early March. To order let me know your footpeg position, 3,4 or 5 as they are different floorboards. None of this "one size fits most" stuff. $489 AUD a set inc GST
See video https://youtu.be/QC2seL-P9W4 -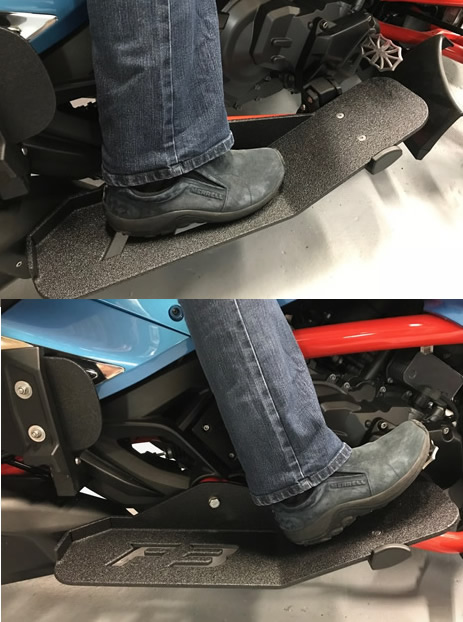 RT Longer Brake Pedal Option
This brake pedal was made to help riders that have issues with sore legs, knees and hips. This will give you a more natural position to brake, just a back and forth motion, no need to swing your foot towards the inside of the Spyder. You still keep that option of course, but you now have an additional position. Made from stainless steel with our unique RT logo, this pedal will stay beautiful for a long time. $69.85 inc GST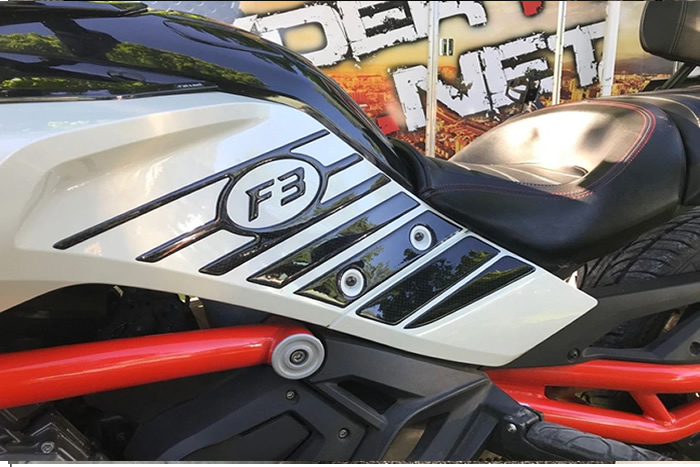 Jumper port - Many of us carry a small battery jumper kit but just getting to the battery on an RT means unloading the trunk, unzipping the liner , unscrewing the cover panel etc. Getting to the battery on the F3 is similarly awkward.
Tricled have been marketing a "jumper port" to Slingshot owners (who have similar acccess issues) and they are now available for the Spyder in versions for the RT and F3. The copper cable supplied is made to feed the battery at ful capacity and is literally fused to the terminal so no crimping or jount issues. A new adjustable battery terminal is included and it is ideal especially if you feed a number of accessories from your battery. $45.80 inc GST (specify RT, 2013 and later or F3)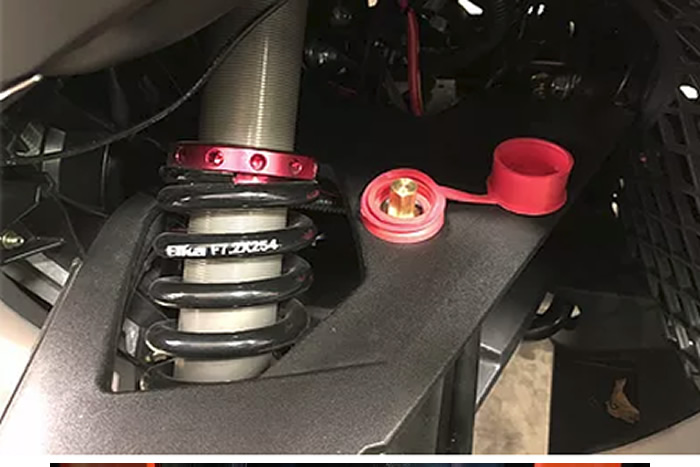 New F3 quick detachable backrest . This unique slide lock hardware system allows the backrest pad mount to easily detach and be removed through the seat opening, providing a smooth clean look when you're not using it. $360 inc GST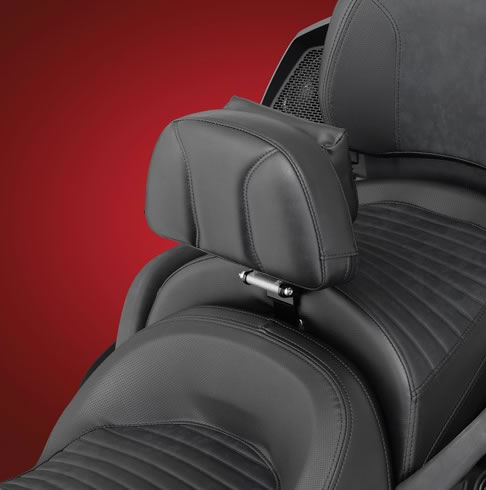 New Ultraguard half cover suits F3T with a rear trunk. $73 inc GST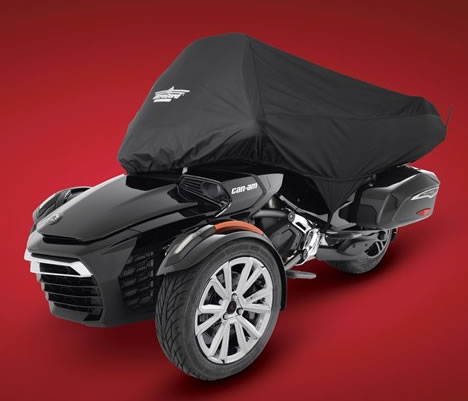 Replacement brake discs -
For some time I have been selling EBC brake pads with great feedback from riders. I will now be stocking a range of rotors (disks) to cover from 2008 to current Spyders. Great feedback on these too from the USA.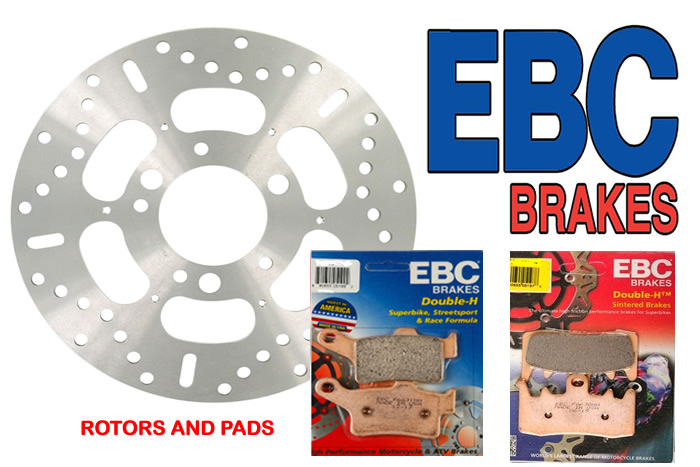 NEW MODEL WITH BUILT IN BAFFLE. Previous unbaffled models were just too loud on some F3's
Replace your 1330 stock catalytic converter with a high quailty stainless steel hand welded pipe. Interesting video of a cat removed from a 2014RT see below. Different exhaust sound (Akerprovic ) and the exhaust pipe temp under the rider is 178 deg F cooler without the cat converter. Pipe temp under the rider is around 177 deg C standard and without the cat this reduces to just 77 deg C
See http://youtu.be/jwvy3xdefns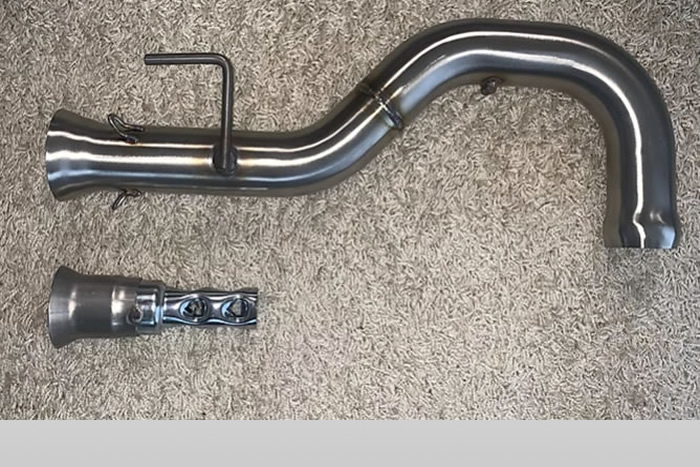 Australian Flag decals.
UV resistant, laminated for long term durability.
Fits RT trunk lid and RT glove box lid.
In stock soon -http://www.spyderryders.net.au/image-viewer.htm?Fgallery6-27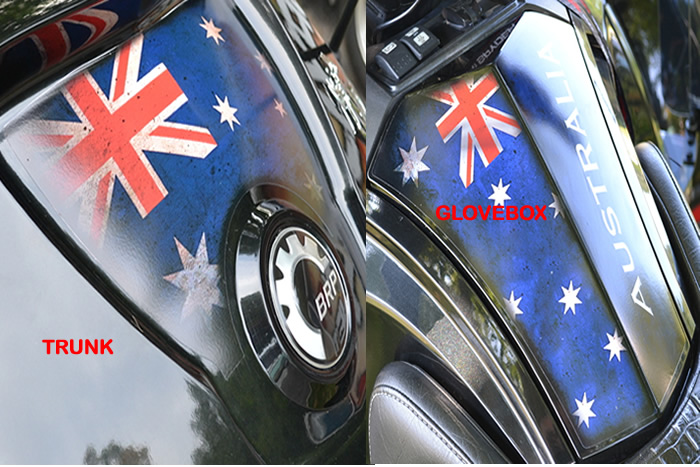 IN STOCK NOW - Wide angle mirrors NOW FOR RS, F3,F3T ,F3LTD as well as the RT
Replace the whole viewing area with a new wide angle mirror. Simple stick on fit. 35% larger viewing area and no visable distortion. $105 inc GST
Great feedback. "Hi Martin would like to order another Tricled wide view RT mirror set mine were on for 1 day and already my mate wants a set they are fantastic can see across 2 lanes of traffic will be great with trailer on Thanking You"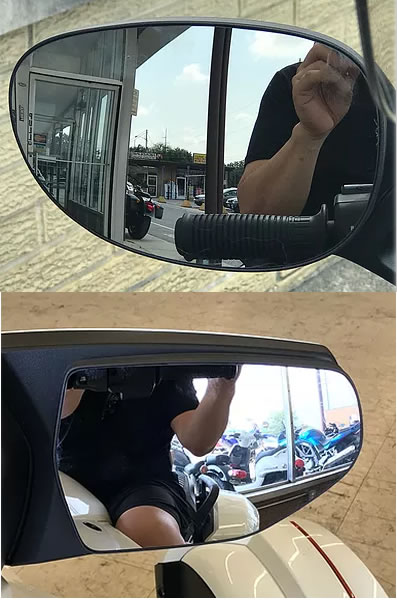 3,000 Lumen high power "plug and play" LED driving lights
Each one of these USA made LED units measures only 2" in diameter but packs an amazing 3,000 Lumens each! They draw very little power and outputs are greater than your stock headlights.*NOTE- Online you will see many units that look the same but are much cheaper. Most are single core units of 600-900 lumens not a quad core of 3,000 lumens , made in the USA as these are.Mounting system allows it to turn where the wheels are pointing. Included is full wiring loom and a dimming switch. $335 for complete kit inc GST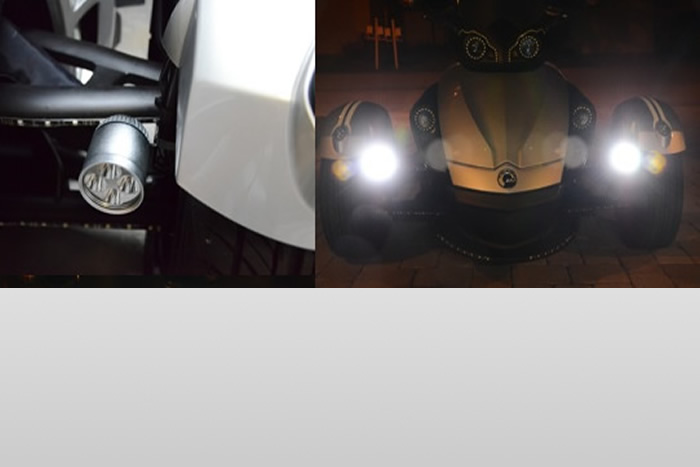 Tricled Turn /brake/tail especially for the F3T and F3LTD.
Includes an OEM harness plug so connection could not be easier. Simply plug into the existing tail light loom.
New "Black tube" design is packed with LEDs to look like one continuous light and morphs from a red brake tail to an amber turn signal.
Excellent way to add rear visability! $125 inc GST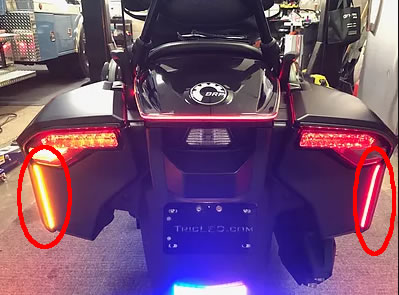 RT Mudflap extension and trim- The new Mudflap Extension Accent looks so natural on the Can-Am RT it should be a stock accessory. Big Bike Parts® Mudflap Extension Accent extends the OEM rearmudflap by 5", minimizing debris kick up to following riders and is a needed requirement when pulling a trailer to reduce chipping. A decorative chrome accent makes the OEM fender and Big Bike Parts® Mudflap Extension Accent look as one. Attacheseasily with double sided tape and 2 screws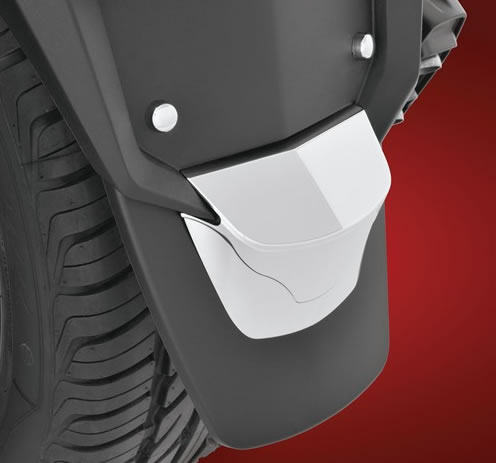 Key cover
The unique two piece design snaps over the Spyder Key giving you a mounting hole for a keychain or key ring. Comes with a wire barrel lock keyring to add additional keys to. The simple yet stylish design compliments the Can-Am Spyder Key making this accessory blend in without interfering with the embedded chip. Sold individually with barrel lock. $17.90 inc GST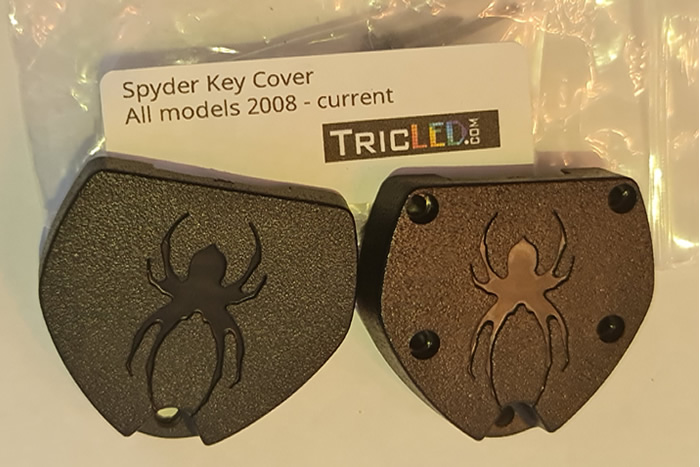 RT Magic Strobes improve rear visibility
This unit can be used with LEDs or incandescent bulbs to significantly increase your visibility on the road! Riders can easily select from 10 Flash/Strobe Patterns by simply spinning the dial on the Magic Strobes Brake Light Flasher™ module! This unit has a sleek design and compact dimensions: 2.25" x 1.25" x 0.5". Sealed, weather tight case. Over current and reverse wiring protection. Thermal and short circuit protection.
Plug and Play on all 2010-2017 RT (all models)
$132 inc GST

Providence Spyder phone mounts in stock now.
I have never seen anything of this quality and so complete. Instructions written AND on DVD. Every loom, wiring and connector you need. First rate product all stainless steel and powdercoat. Silicone wetherproof caps..The image below is a center mount (4 bolt pattern) dual USB charging base with phone or GPS X mount Ram Ball kit ,
See details http://www.spyderryders.net.au/image-viewer.htm?Fgallery6-23

Lidlox Helmet security System.
I have stocked these for some time for Spyders as bar end fitment but I now have another type in the form of a bolt mount unit for handlebars. I have 6mm metric bolt "universal" type and one that fits 1/4-20 bolt Typically Harley Davidson. $65.00

Smooth Spyder belt tensioners for F3,F3s and now also for 2015-2017 F3T and 2016 F3 LTD
Yes these are much more expensive than the BRP single bearing plastic ones But they will last ! Lifetime Warranty on Bracket and Tensioner, 2 year warranty on the Idler Pulley
Recent Facebook post on the BRP tensioner said " Note the wabble in the belt tensioner on an F3 after 8,500 miles. I suggest you checking it regularly. I'm going to make the roller out of aluminum with 2 bearings in the roller and with larger bearings, if possible.
I'll report how it works. The stock roller has 1 bearing and in plastic. I think the bearing heats up and melts the plastic, I think we can all agree on that . With the failures that have occurred I think, (Houston we have a problem). "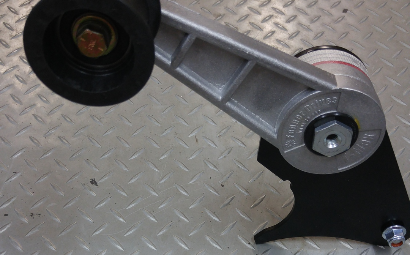 RT Trunk organiser special
This storage system gives you 2 trays and a center shelf and is made of steel that has been powder coated for a tough and clean finish. It installs in just about 3 minutes using 2 existing screws already in the rear trunk and 2 new one that are provided. This will make sure you don't loose another pair of sunglasses, cell phone or camera again. Loose change will never be a problem again, empty your pockets in one of 2 side trays.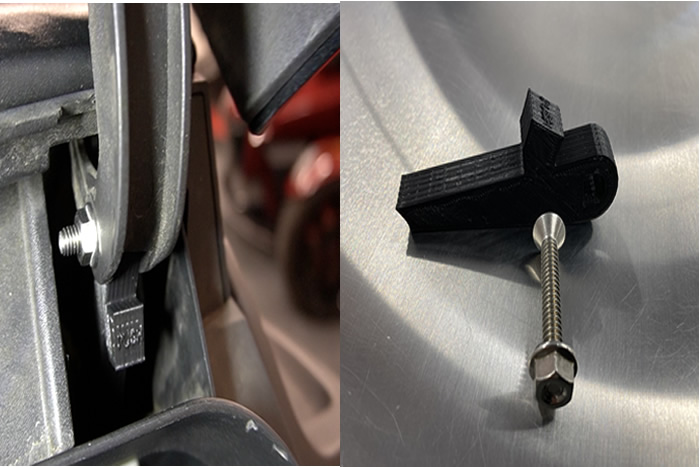 New phone and GPS Ram Ball mount options.
In a couple of weeks we should have stock of a high quality range of "Providence" phone and GPS mountings for the Spyders. Both ones that fit in the centre of the steering (4 bolt pattern) and others that go on the handlebars (all models). Weatherproof USB outlets, with stainless metalwork made in the USA and genuine Ram Ball cradles. Will also include a special Go Pro camera mount for the handle bars.See http://www.spyderryders.net.au/image-viewer.htm?Fgallery6-23 for details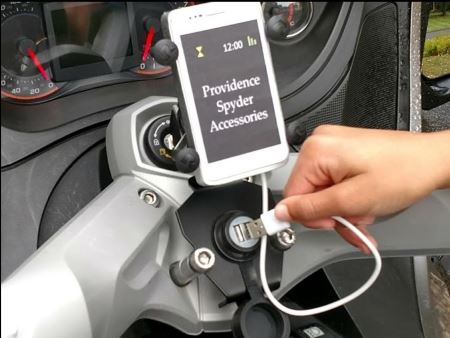 F3 rack
Finally a solution for storage on the F3 Can Am Spyder without breaking the bank. If you own a BRP passenger backrest you will be happy to know that for only $220 inc GST you can now travel with a bit more gear. If you don't have a trailer or saddle bags because of budget issues, you can now transport with you a small piece of luggage, back sac or cooler of those road trips. Made of aluminium 1/4" thick and powder coated black textured to blend in, this Canadian made rack manages to combine durability, strength and design into one. About a dozen holes will allow you to secure your choice of bags with bungee cords. The spacers needed to level out the shelf when installed are welded on so when we got our powder coat, everything is black. New hardware is provided. Installation is just minutes.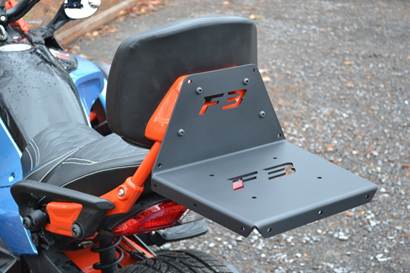 Canadian 18" RT floorboards- limited stock $40 off at $359 (were $399) inc GST
These roomy STV floorboards come in at a length of 18 inches. Made of aluminium that is 1/4 thick. Laser cut for precision and they are bolt-on for easy installation. Following the original angle given by the BRP pegs, you get a comfortable forward lean position for an increase in leg room. Theses floorboards are coated with a tough Line-X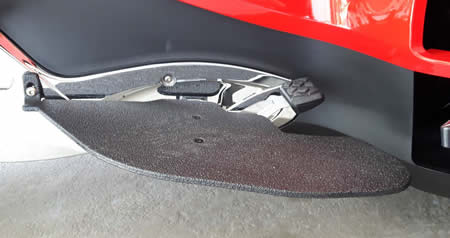 Like a little "bling" on your Spyder? I have a couple of sets of laser cut stainless steel trims you may like $25 a set of 2 or the whole set of 6 for $60 inc GST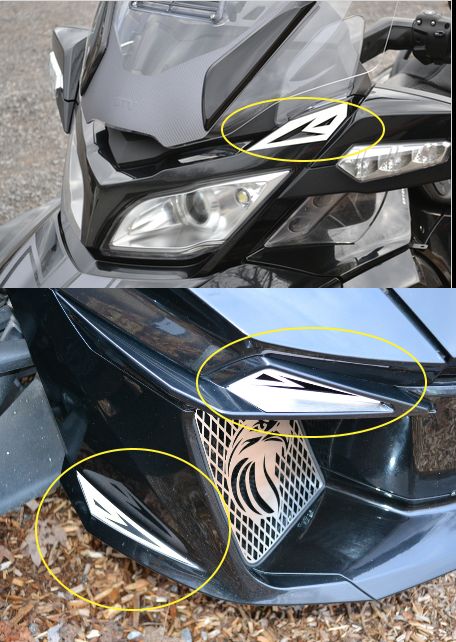 New Tricled lighted LED Spyder keychain . includes press button torch function. $19.50 inc GST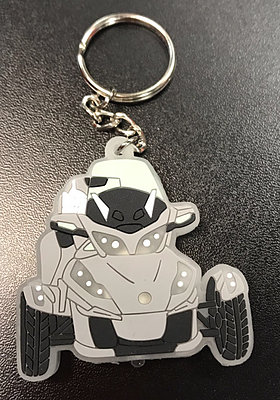 New Tricled wide view RT mirror. Simply peel of the backing and stick over your existing RT mirror. Feedback- Hi Martin would like to order another Tricled wide view RT mirror set. Mine were on for 1 day and already my mate wants a set. They are fantastic can see across 2 lanes of traffic will be great with trailer on. Thanking You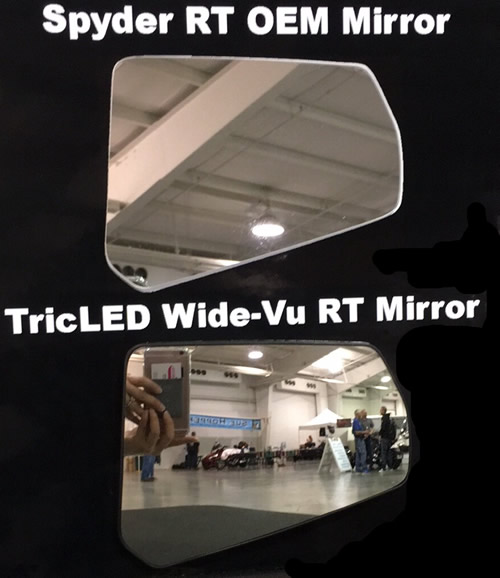 Laser cut polished stainless side grills for RT's to compliment the Canadian intake grills on 2014 and later. $95 inc GST a set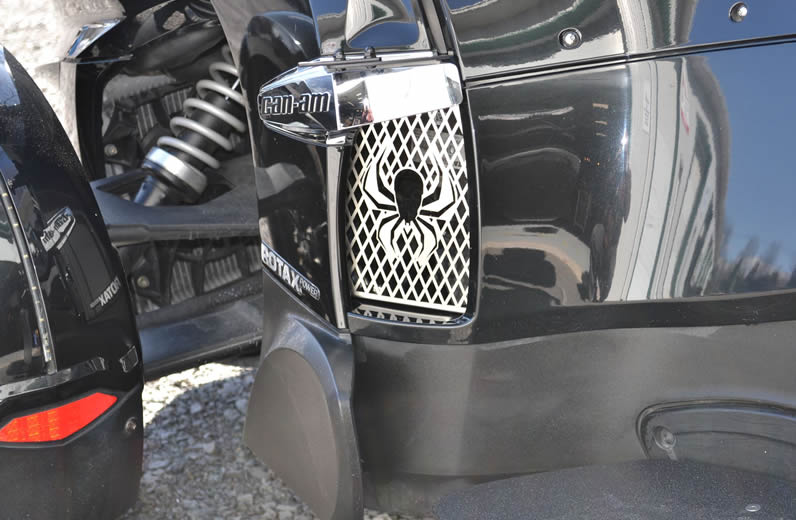 To complete the look of your RT Spyder with the Canadian intake grills - add these stainless upper grill trims . $29 inc GST a pair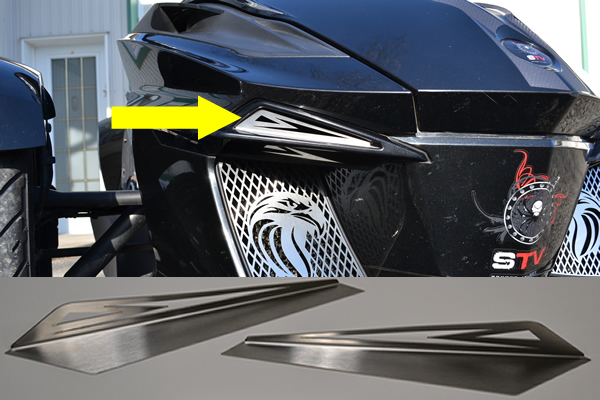 From Pierre in Canada "This is our Rear trunk center shelf. This is the answer to all your storage problems for your RT series Can-Am Spyder. We have a one of a kind storage system for the rear trunk that will make sure you don't loose another pair of sunglasses, loose change, keys, cell phone or camera again. It is a smaller version of out rear trunk organizer system . " $69 AUD includes GST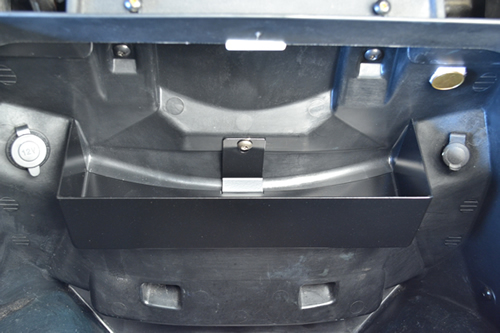 Think your F3 is OK with the standard sway bar? Feedback from Graeme is
"Hi Martin,
I recently had the F3S sway bar fitted to my trike. I was happy with the handling of the trike before fitting the bar but decided to fit yours (Bajaron) . Wow! The difference is amazing. The trike sits flatter and goes harder when cornering. I'm impressed. Along with the belt tensioner, the sway bar is a must fit to the f3s." Thanks." 

While you are at it consider changing the plastic links to metal ones. A local RS rider broke one plastic link recently and will be fitting CNC machined billet links now.
Custom Dynamics emblems also for the F3 and F3S
The emblems for the RS I have in stock also fits the F3 and F3S. Come in silver on black or black on silver (as below) .
Front trunk organisers for all models except F3
Now in stock. Helps you keep track of all the bits that end up at the bottom of your trunk. Easy velcro fitting.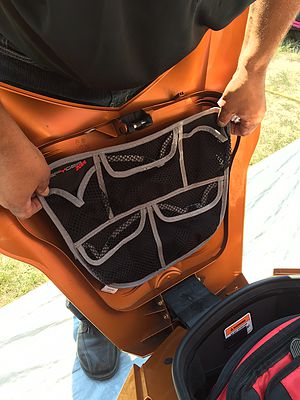 Madstads new Spyder F3-T/LTD system.
It's a simple install, the adjustable brackets replacing the fixed factory mounting blocks, and then the screen replaces the factory screen. As usual for a Madstad system it is much smoother and wider wind protection, fully adjustable,In stock now $395 inc GST
Which engineer decided to put the rear tyre valve on the left hand side under the sprocket ! !
Frustrating isn't it and I am sure that me repeatedly trying to wiggle an air hose on resulted in the recent damage to my leaky valve and its necessary replacement. This convenient 24" flexible nylon air hose lockson with a snap to your tire valve stem extending access 24'' allowing easy access for checking and filling any tire. $19.90 inc GST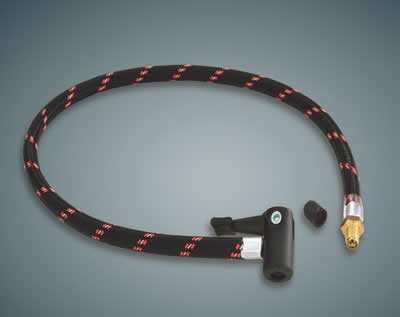 New 8" RT spiral antenna
Very flexible spiral antenna includes a new rubber grommet for the RT (also fits F3)

Running lights become indicators.
New dual white/amber DRL running lights. Very bright white running lights with a blinker module they change to amber flashing indicators.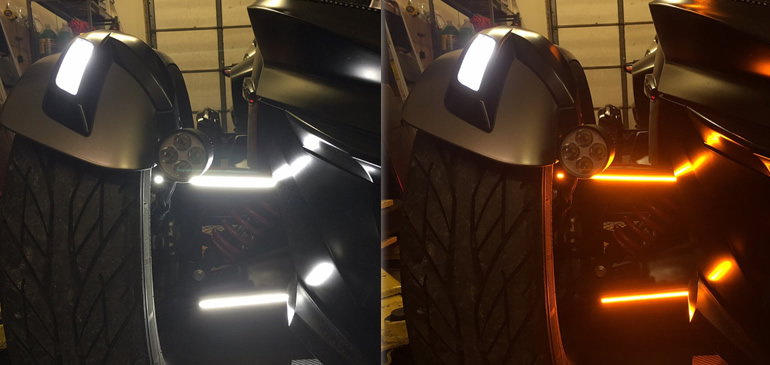 Custom Dynamics Brightsides
RT Spyder motif SS grills
New laser cut intake grills (2014 and later) with Spyder motif. Stop the rubbish accumulating in the intakes.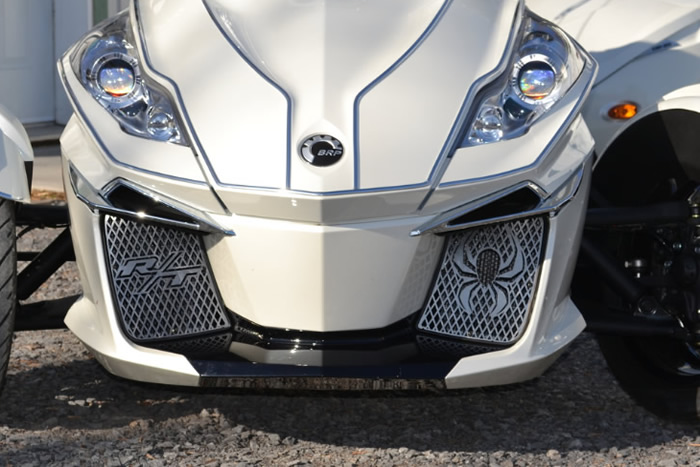 RT front arc ring

Extremely bright arc ring for the RT front logo. Looks like one continuous ring and includes a remote control.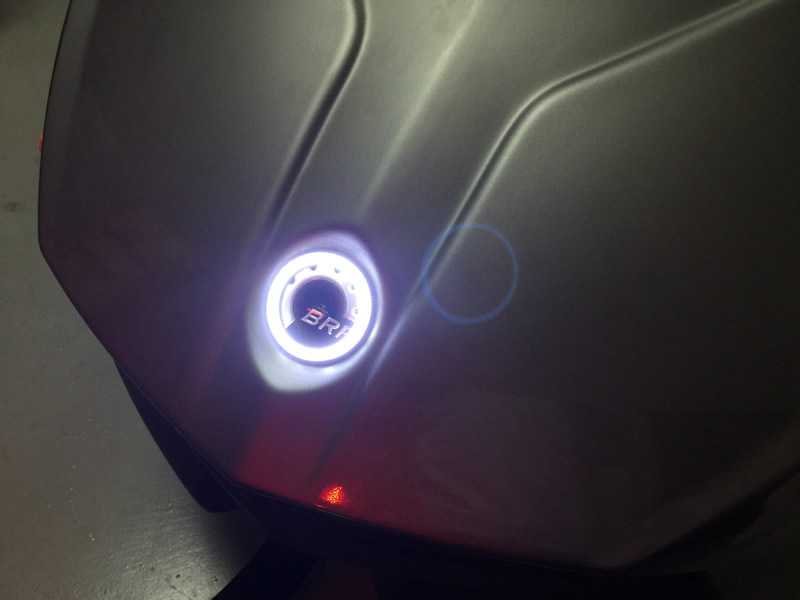 New F3-T pannier mounted brake, tail, indicator kit for maximum visibility . Also availablw for RT models!
Developed from a custom build at Spyderfest this LED set include tail, brake and indicators with over 150 ARC LEDS with 0 spacing between them so they look like one solid line. It is designed to fit around the perimeter of the F3-T panniers for a clean well hidden look. The manufacturer says "bright is an understatement for this item". Hidden in the pannier grove this nano arc circuitry changes from red brake tail to amber flashers when you indicate. Having the indicators on the outside edge of the vehicle makes your intentions much clearer.
Will be available in brake, tail, indicators or just brake and tail. $TBA



Expandable Trunk Rack for the Can-Am Spyder RT - Black
Convenient trunk rack for the Can-Am Spyder RT. • Adjustable rack mounts to the trunk - sturdy security for baggage • Laser cut steel rack is 15.5" wide, 11" deep when closed, and 13.5" expanded • Features a black powder coated finish • Fits all Can-Am Spyder RT models - http://www.spyderryders.net.au/image-viewer.htm?Fgallery6-24

True Track Laser Alignment.
Spydervamp (6-2 Laser Drive Rowville, Vic 3178 PH (03) 9763 4633) now have the "True Track" laser wheel alignment system to make sure your Spyder handles the way it should. Talk to Adrian.
2013 ST and RS owners
- Did you know the suspension adjustment kits for the 2013-16 RT's will also fit the 2013 RS and ST models (1.5" shock body)? We have had great feedback. "Went for a ride this morning and I am convinced that they are the best accessory that you can buy to improve the ride and handling. Great stuff!!! Regards, Rob "
"I installed them, took it for a ride on a twisty road close to home and boy they are worth every dollar.- Zorro
" Would recommend anyone who owns a 2013/2014 model to do this cost effective upgrade."
http://www.spyderryders.net.au/image-viewer.htm?Fgallery1-3
Feedback from an ST owner. "Just fitted the BajaRons front adjusters to the front shocks on a 2013 ST, brilliant, much stiffer and almost no body roll, improved the handling and straight line, tracks like its on rails, lifted the nose about 25mm at lowest point, I can now get a trolley jack under her belly...only took me about 2 hours, and not much swearing, I recon its a must for 2013 ST or any other Spyder with non adjustable front end..Thanks Martin for the advice and the loan tools...
Regards Steve S   WA"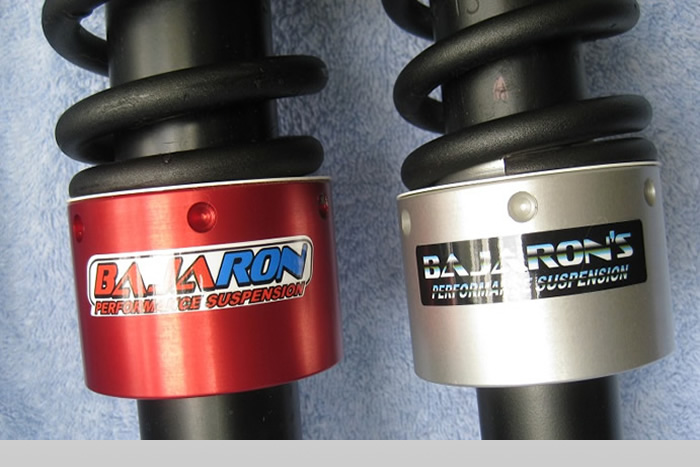 RT Trunk light- no wiring needed. $38 now $30 inc GST
"Quick fit" RT wireless LED trunk light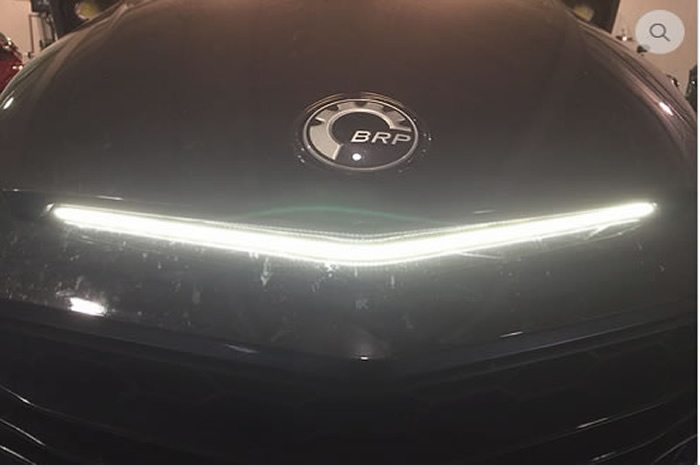 30 Second fit RAM ball mount for RT's
This is a relatively cheap simple way to add a RAM ball mount to your RT dash for your phone, GPS etc. In stock now $48.00 inc GST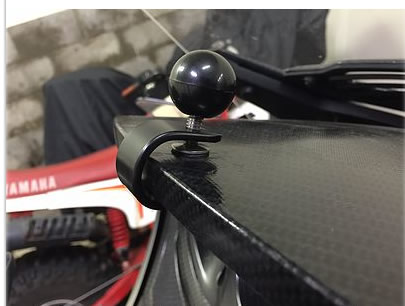 Check out the new BRP Factory Concept F3 Turbo!!
On Youtube - https://youtu.be/6103fIK3oTI
New cover specifically for the F3 - available NOW!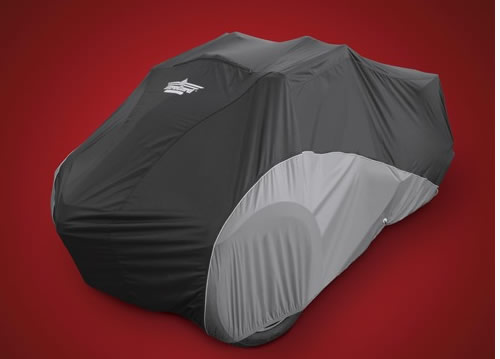 Just a reminder to those who received an F3 Spyder from "Santa" .
I currently stock budget floor boards, lots of LED lighting,Smoothspyder belt tensioners, Madstad adjustable windscreen systems and dual mode backrests for the F3- all here in Australia
The STV replacement steering bolt and Ram Ball enables you to securely mount your phone /gps etc in a myriad of positions around the centre of the handlebars easily. Bolt only $48.00 inc GST - including Ram Ball $69.00 inc GST See details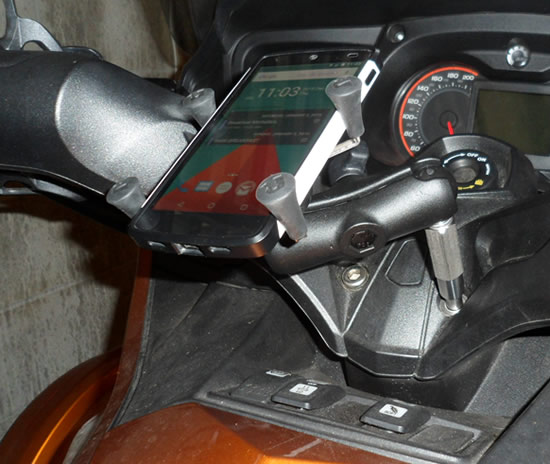 IN STOCK NOW ! CanAm Spyder Accessories.com products
Like their RT trunk organiser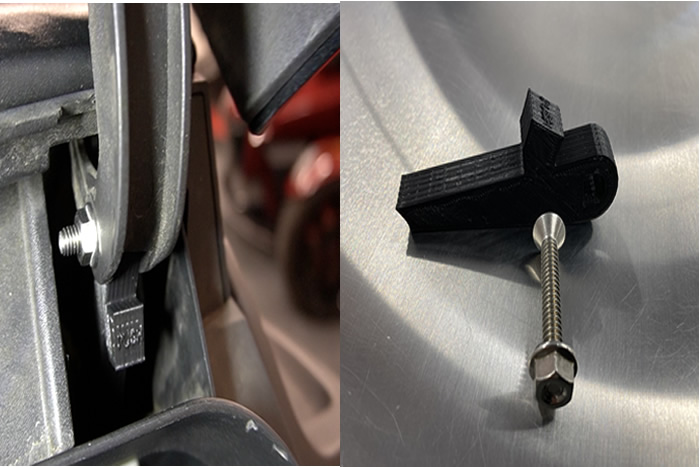 And a great 'Ram Ball" mount for phones , GPS, tablets etc.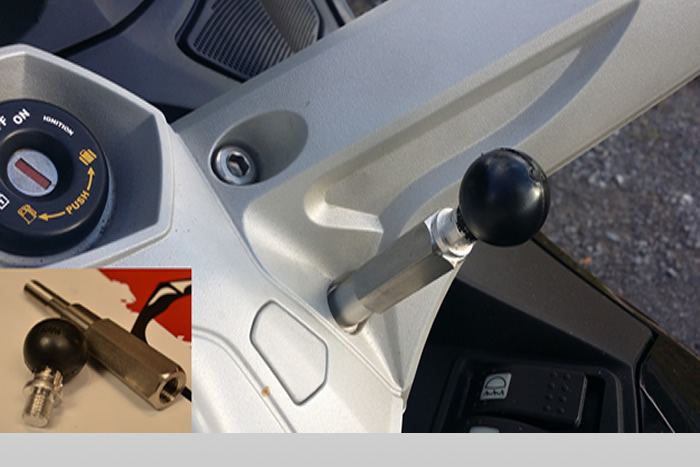 Simple low cost bag for the RT trunk
A tailored bag for the RT trunk with straps to conver to a back pack . See accessories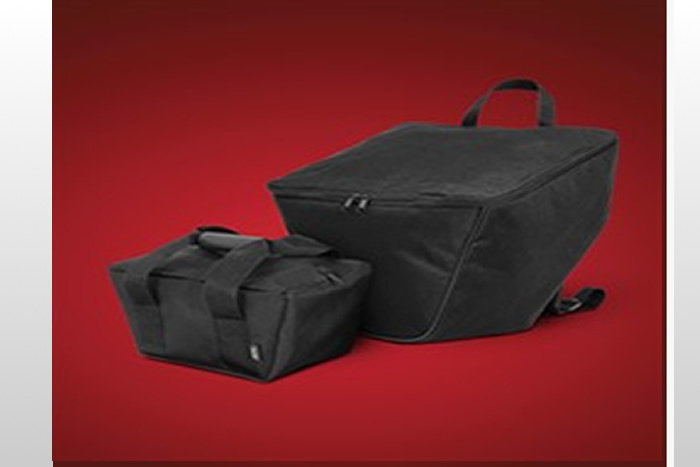 Half cover for the RT
When you are travelling or don't need a full cover. See accessories
RT headlight guards
Protect your expensive headlights from rocks. See accessories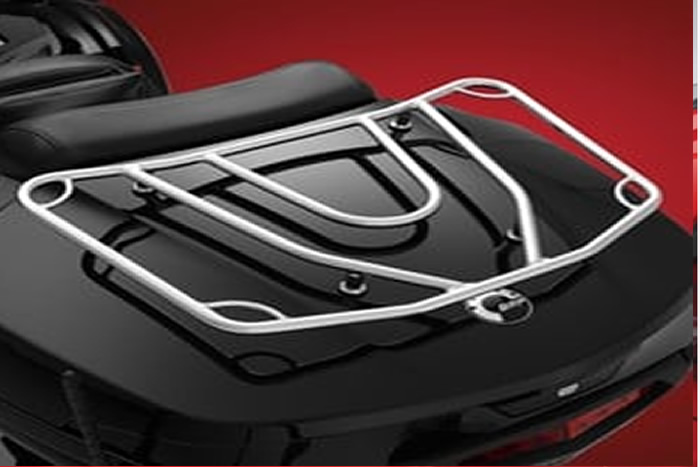 Cracks in screen control arms
Every RT owner should know now but if any newcommers are looking at secondhand RT's have a close look at the central control arm for the windscreen. If it shows any sign of a crack you will be up for a $200-$500 repair. For a new improved arm that will not break again talk to Ron - rpi76142@bigpond.net.au

New Lidlox

"Lidlox" Practical no fuss security for your expensive helmet. A quality product made in the USA. Very easy install! This trick little device adds a locking helmet holder to the end of your grips and also functions as a bar end weight to reduce vibration (remember the BRP "anti vibe " kit) . Simply slide your helmet D-Ring into the slot or use the provided helmet lock extension and lock it in. See '"Everything else" in the accessories menu.
Live close to Melbourne and need a mechanical hand with your Spyder?
Spydervamp Revamp Automotive is a renowned mechanical repairs service provider in Rowville, Victoria. Their services include specialty repairs and servicing to all CAN-AM SPYDER Vehicles . They can supply and fit After market equipment and carry out required modifications. They are a Licensed Vic roads RWC Inspectors and are a Dealer for Two Brother Racing Products. 6-2 Laser Drive Rowville, Vic 3178 PH (03) 9763 4633